When:

7/30/19

QIC:

Navy

PAX: Cheech, Purplerain, Catfight, Maytag, Bosley, Cooter, Upchuck, Linus, Sparkles, Macho Man (Wake), Cold Cut (ENC - respect), Huckabee (respect), Dumpster Dawg, Pillbox (repsect), Princess, Navy (QIC)
Purplerain was true to his word and we set out on a standard at 5AM.  Always great 2nd F with him and nice to have someone to listen to my complaints about being old and sore.  When we arrived back at the AO we had a nice group forming and ended up 16 strong.  YHC felt his performance at the bands yesterday was nap-worthy and therefore wanted to bring the noise today.
We started off with a nearly perfect opening including the disclaimer and mission statement and set off on a short mosey across the hwy to start a rolling WARMARAMA ending in the Ribeye's parking lot.
Motivators SC down from 5
Down Dog/Pedals
Runners Stretch
Cobra
Dry Dock step throughs IC x 10
Smurf Jacks IC x 10
Imperial Walker Squats IC x 10
Next we partnered up for THANG 1 which included a little fartlek action.  P1 would perform a designated exercise AMRAP while partner 2 fast moseyed to the next telephone pole and back.  Flapjack, rinse repeat.  Once the 6 was in we slow moseyed to the next pole and started over.  On the way from Ribeye's to Mac Daddy's we completed the following:
LBC's
Rocky Balboa's
Merkins
Plank Jacks
Squats
Form two lines and Indian Run back to Ribeyes.  From there we moved into the main parking lot for THANG 2 and some OYO fartlek.  We started at the South end of the lot with 1 LBC, fast mosey to North end for 1 groiner.  Move the second set of parking spaces, rinse repeat with 2 LBC's & 2 groiners, then 3 and 3 and so on.  We continued the entire length of the lot and ended at 12 and 12.
Somewhere along the way I saw Huckabee disappear into Lowe's foods.  Probably because they have nice clean bathrooms that happen to be open at 6AM.  But YHC never saw him emerge so the only thing to do was go in after him.  The PAX lined up outside the front door and we proceeded to do a formation run through the deli, bakery, seafood and meat departments and finally through that heaven on earth we like to call the beer aisle.  At this point we found Huckabee and so we felt like we should exit the store before security was called.  (If you are reading this and thinking YHC is joking…I'm not.  16 big smelly guys danced through the beer aisle at Lowe's foods in Cape Carteret at just after 6 in the morning. Actual video tape below)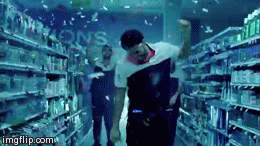 Short mosey back to the flag for Dealer's Choice Mary:
X files IC x 10 (YHC)
Sun Gods IC x 10 (Linus)
Side straddle hops IC x 10 (Upchuck)
Burpess 4 count x 10 (Macho Man)
Cherry Pickers IC x 10 (Bosley)
Homer to Marge (Cold Cut) to a hard stop
Announcements: Cold Cut on the Q for Prometheus tomorrow.  3rd F led by Purplerain right after the workout at Java Post.  Military Family Outreach this weekend at CCBC.  Need volunteers to work the booth on Saturday.  Contact Purplerain.  Purplerain made goind points about making sure we HC so the Q can plan and to get other PAX excited about coming.  Prayer Requests: Laettner's M – continued recovery. Cold Cuts 2.0 – recovery from back injury and generally finding his path in life.  Cooter did a beautiful job taking us out in a heartfelt prayer of praise and thanksgiving.
Moleskin: It was a great morning gents.  I love F3 for so many reasons and at the top is the opportunity to lead great people in a fun and challenging workout.  Today we worked hard, stayed together and laughed a lot.  I couldn't ask for a better way to start the day.  Really enjoyed having two Pax from off Macho Man and Cold Cut.  Great to see Bosley, Upchuck and Huckabee out there getting after it.
Navy, Out.
SYITG